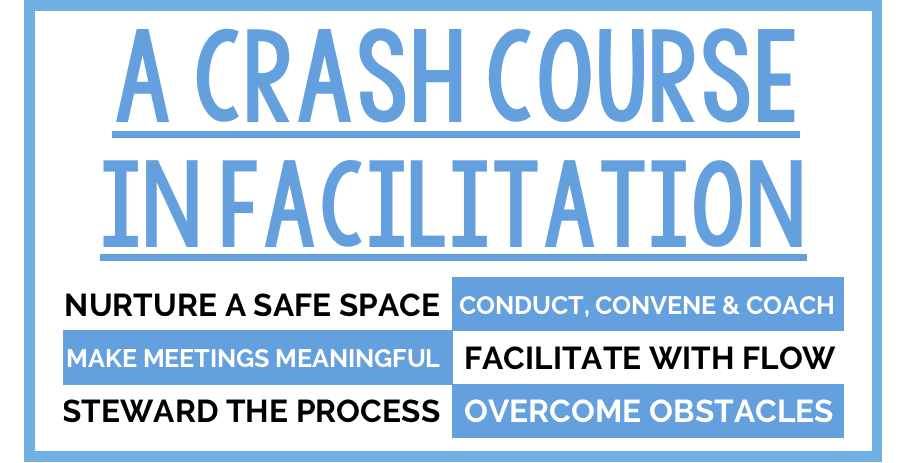 A Crash Course in Facilitation
A Crash Course in Facilitation
for great group gatherings
A mid-level short course in group facilitation skills
Effective Group Facilitation requires a range of tools
and methods for helping and herding humans.
This short-course goes beyond the beyond the fundamentals
to begin the journey of the high-functioning facilitator
WHY DO IT?
Grow to be impactful and elegant in leading sessions
Facilitation skills training is effective at jump-starting the facilitator's learning journey.
This short course is appropriate for team leaders, workshop trainers and committee meeting organisers who are looking for new tools and new understandings to improve their practice.
.
WHAT'S INVOLVED?
The course can be delivered in two ways: three sessions of five hours or over five sessions of three hours.
The following is the course outline for the version over five shorter sessions.
§1 GETTING SETTLED
Beginnings are crucial Let's get our own start right, so that we can learn from that.
Setting the scene for our own learning, learning about the five fundamentals of facilitation, and sharing approaches that work to make the right first impressions.
§2 PURPOSE PROCLAIMED & CULTURE CODE
We need to know why we are here, and we need to have a conversation to encode how we treat each other.
The importance and theory behind the Why and the How of humans in groups. Also including various methods to open and progress those conversations.
§3 NEXT LEVEL LISTENING
If there's no listening, you're going nowhere.

Listening is simple, but it is not easy. Listening, noticing, watching and observing on multiple levels is a skillset that can only improve.

§4 POWER & PROTEST: COPING WITH CONFLICT
When it all goes south, everyone will be looking to you.
As facilitators, we need to be prepared for disruptions, dysfunctions, conflict, difficult discussions and challenging conversations.
§5 HERDING HUMANS: HELPFUL HACKS & HINTS FOR GROUP MANAGEMENT
Most groups have hard-workers, holiday makers and some hostages/ hijackers.
A chance to discover more tactics and tricks to help you to facilitate with grace. Also including suggestions on further avenues to explore to practice your craft.
HOW DOES IT WORK?
The course works by offering:
THEORY & THINKING
This is the understanding of the role of the facilitator, and a framework of thinking about the job, that allows you to plan for successful sessions, and problem-solve in the moment when disruption and dysfunction surface.

TOOLS & SKILLS
These are the processes, discussion formats, listening and communicating skills that are the visible aspects of the job.

TACTICS & TRICKS
It takes a human to lead a group of humans. And it takes a skilled and graceful facilitator to make that look natural and elegant.

The tactics and tricks are the small, often unnoticed, little touches that can help you look effortless in the role.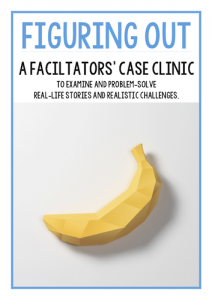 THE FACILITATOR'S CLINIC
If the content is not relevant, then the time spent training is wasted.
The Facilitator's Clinic is a space in the training room to examine real-life stories and realistic challenges.
The trainer and participant group together then design appropriate effective solutions, coping mechanisms and/or preventative measures.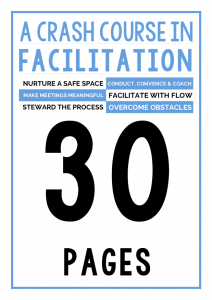 BOOKLET OF HANDOUTS
Each session comes with a selection of handouts describing and signposting in comprehensive detail more tools to use, methodologies to consider and further insights to ponder.