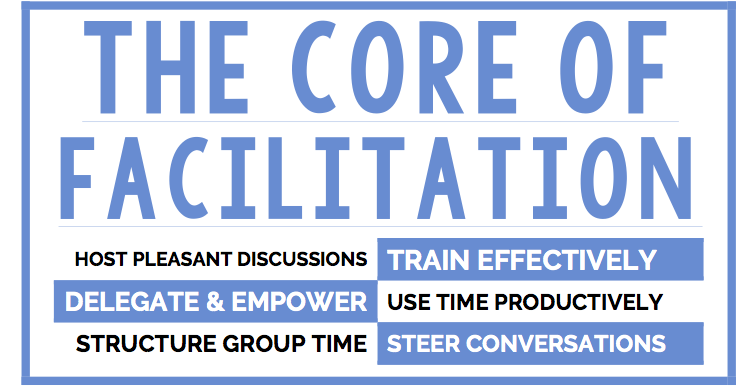 The Core of Facilitation
The Core of Facilitation
For an online version of this course, see The Core of Online Facilitation.
An introductory training to the skills of group facilitation 
Learn to: lead in teams, host discussions, steer discussions, delegate, empower others, train & teach
Ever been in a meeting that's been a shameful waste of time and energy, and with a disregard for politeness?
Are you beginning to lead groups, but feel a bit out of your depth?
Would you like to feel confident about taking charge in a group and helping to show the way?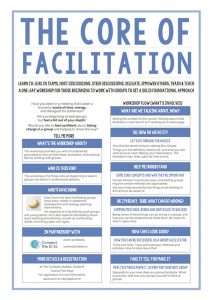 WHAT IS IT?
This one-day workshop provides you with a fundamental grounding for working with groups by giving basic ideas, solid processes, useable tools and practical tips.
WHO IS IT FOR?
This workshop is for those who are beginning to leads in groups and teams in professional spheres.
WHAT CAN I EXPECT?
Thought provoking questions, adaptable group exercises, fun energisers, session handouts.
AT A GLANCE: THE WORKSHOP CONTENT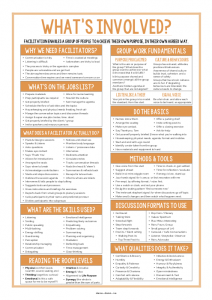 WHAT ARE WE TALKING ABOUT, NOW?
Setting the context for the course:
Thinking about what facilitation is and what it isn't. Getting all on same page.
.
LET'S GO THROUGH THE BASICS 
Your first few words and your starting five minutes.
Things you will definitely need to do, and what you will want to cover next. Making your interventions. The facilitator's role, tasks, jobs list, how to end.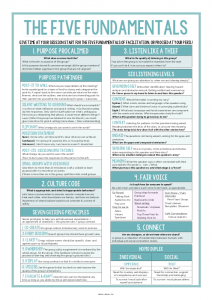 HELP ME UNDERSTAND:  The Five Fundamentals
Five core concepts and why they're important
People in groups behave in particular ways, and leading groups requires certain methods and approaches.
Get your head around the key things to be thinking of and what to be aware of.
(If I told you here what they are, then we'd miss the fun of figuring them out on the course.)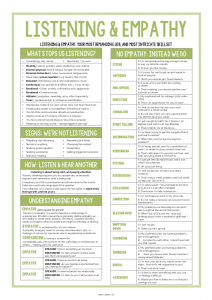 LISTENING IN THE GROUP
If there's no listening, we're going nowhere
Obstacles, pitfalls and strategies to increase listening amongst your group participants.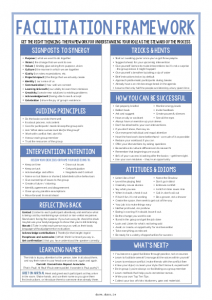 CASE CLINIC: OK I'M READY, SURE WHAT CAN GO WRONG?
Common mistakes, risks and obstacles to success:
Being aware of what things can go wrong in a group, and how you can be prepared and avoid them. Be ready for when it goes awry.
HOW CAN I LOOK GOOD?
How you can be successful as a group facilitator:
Tricks and Hints. Tools and Exercises. Methods and activities.
FAKE IT TILL YOU MAKE IT
Practice makes perfect, so prep for your next group
Signposts to your next steps as a group facilitator.
A BOOKLET OF NOTES
A 20-page little booklet of notes, suggestions and reminders of things covered in the course,
as well as some things that there won't have been time for.

WHAT DO THEY SAY?
There was lots of information, transmitted really well. Dave was great at making the group comfortable and empowered – even the quietest voices were frequently heard. Fascinating insights and techniques even for those who have facilitated before.

It was an incredibly helpful session.
.
After this training day, it is really noticeable how our teams are overhauling how we deliver our training and induction workshops. There is now more planning and preparation, we use more props and materials and there is far less powerpoint. Now that we have the skills to lead interactive and engaging activities and discussions we are finding that the sessions we run are more more participative, and they are more fun.

 

The feedback from everybody was hugely positive. They all got something out of it, regardless of their level of experience and current skills.
.
.
This course is delivered in partnership with Connect the Dots, event architects.
Connect the Dots eliminates the guesswork in event design by harnessing the power of data. Working with clients from Accenture to Suas to Dogpatch Labs to the Oireachtas, Connect the Dots helps companies and organisations to meaningfully connect with their audiences through events designed with, and for, your attendees.
WHEN'S THE NEXT ONE?
[pt_view id="707b278ngc"]