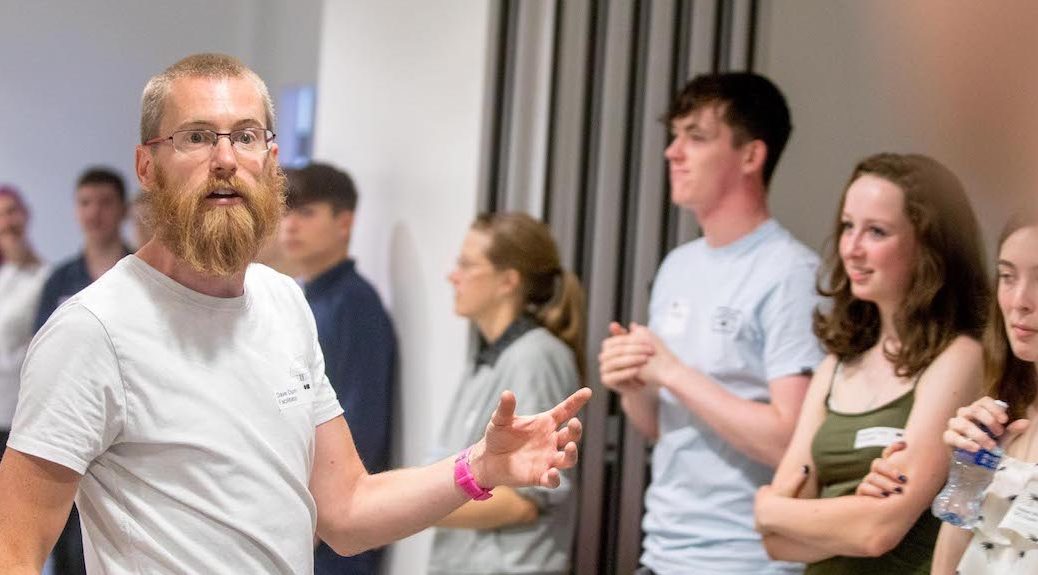 A bit about dave
A bit about dave
Dave Dunn facilitates meaningful meetings, courageous conversations and wicked workshops.
The experiences standing up in front of groups encompasses leadership development, chairing challenging meetings, hosting conferences and seminars, working with youth groups and children, board level strategic planning and delivering skills training workshops.
The journey began in 2008 with a Trinity College Dublin introductory course to group facilitation skills in the Trinity Centre for People with Intellectual Disabilities. Forward on a decade later and some current clients include Accenture, Common Purpose, the Dublin Food Co-op, Dublin City Council, Linesight, Social Entrepreneurs Ireland, EarthSong and the Charities Institute of Ireland.
Since 2017 Dave has been delivering training in group facilitation skills in Dublin through an introductory course-day (The Core of Facilitation) and an intermediate level evening course (The Craft of Facilitation).
He has also been involved in other group related projects such as: with creative events group Queens of Neon; the Inbetweeners and Carnival of the Impossible at the EarthSong Camps; part of the Dublin Flea Market team; providing business therapy support to startup entrepreneurs; and managing mayhem at the Love Olympics.
Dave is organised, curious and playful.
Facilitator & Trainer Panels
.
Our organisation's general meetings host a wide array of competing interests and opinions. It's important that contributions get heard, and that things are kept in play, whilst also keeping momentum going forward. Dave has a knack of balancing these competing strands, often at times looking for what's not being said, and also keeping the tone respectful and pleasant.

Dave brings thoughtfulness and attention to detail in his in-depth preparation to his work chairing our at-time difficult AGMs and General Meetings. You can see this pays off, as he is able to be calm, present and improvise effectively in the moment.
Sam Toland, Dublin Food Co-op
All of the meetings we've had together have been majorly productive, efficient and super fun – I would love to steal his skills.
Fiona Gannon, EarthSong
Dave has a unique talent of combining professionalism with enthusiasm, which ensures top-rate delivery for our groups and excellent working relationships with our staff.
Robert O'Halloran, Common Purpose
LEARNING & DEVELOPMENT
2020, Motivational Interviewing, The Learning Curve
2019, Technology of Participation Group Facilitation Methods (Focused Conversations & Consensus Workshop), International Cultural Association, with Orla Cronin and Miriam O'Donoghue
2019, Intensive Theatre Workshop, International School of Play with Sam Meyler and John Mowat
2019, Connect In Restorative Practice, one-day RP practitioner intro by Michelle Stowe
2019, An Introduction to Design Thinking, by ReCreate
2014, Improv: Scene Form & Structures, 6-week evening course, by Neil Curran (LowerTheTone)
2014, Improv Comedy Introduction, 6-week course, by Neil Curran (LowerTheTone)
2009, The PATH Process (Personalisation and Person Centred Planning), NIID Summer School, by Ray Murray and Debbie Espiner.
2008, An Introduction to Group Facilitation, National Institute for Intellectual Disability, Trinity College Dublin, led by Ray Murray and Patricia O'Brien.
/
Previous Clients List
Accenture, The Dock (Global Centre for Innovation)
Cavan Institute
Eco UNESCO
Fjord Dublin
DAVE DUNN DOES EVENTS, TOO
Well, that's not quite right. He used to do this kind of thing.