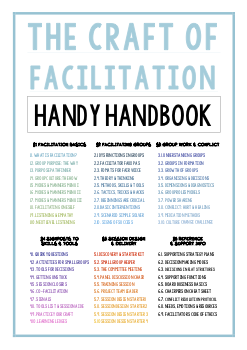 The CraftBook of Facilitation
The CraftBook of Facilitation
A Booklet of handouts to accompany the Craft of Facilitation course.
Currently displayed here is version 9.2. I'm working on the next release, version 10.0.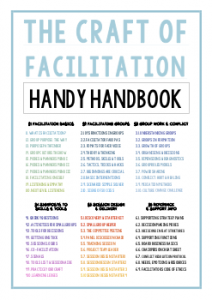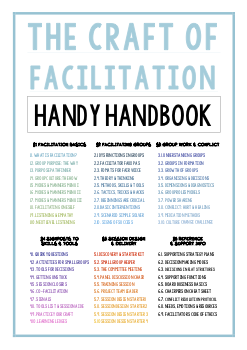 Chapter 1: Facilitation Basics
Chapter 2: Facilitating Groups
Chapter 3: Group Work & Conflict
Chapter 4: Signposts to Skills & Tools
Chapter 5: Session Design & Delivery
Chapter 6: Reference Info

Chapter 1: Facilitation Basics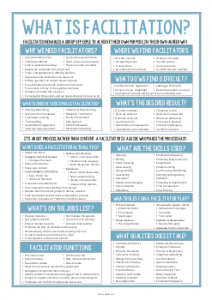 WHAT IS FACILITATION?
Facilitation enables a group of people to achieve their own purpose, in their own agreed way.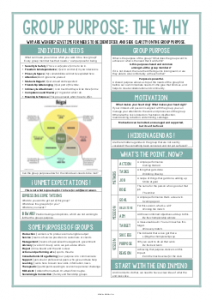 GROUP PURPOSE: THE WHY
Why are we here? Give time for needs to be identified, and seek clarity on the group purpose.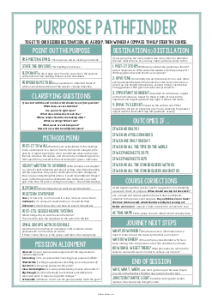 PURPOSE PATHFINDER
To get to our desired destination, as a group, then we need a compass to help steer the course..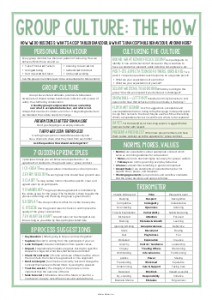 GROUP CULTURE: THE HOW
How we do business: what's acceptable behaviour, & what's unacceptable behaviour, around here?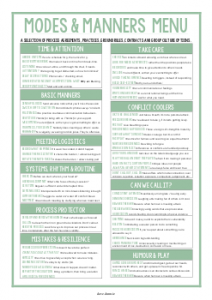 MODES & MANNERS MENU (3 pages)
A selection of process agreements, practices, ground rules, contracts and group culture options.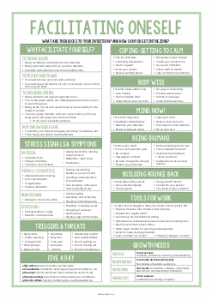 FACILITATING ONSELF
What are the blocks to your intuition? And how can you get in the zone?.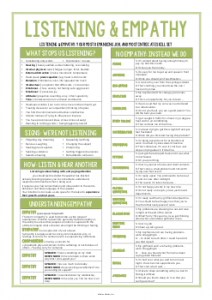 LISTENING & EMPATHY
Listening & empathy: your most demanding job, and most intricate skill set.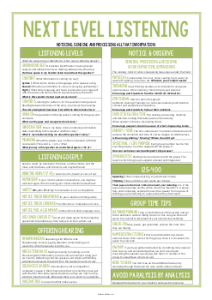 Chapter 2: Facilitating Groups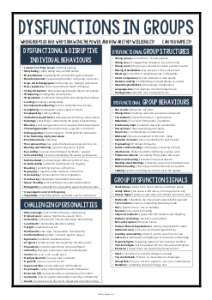 DYSFUNCTIONS IN GROUPS
When groups go bad: who's drawing the power, and how are they wielding it? can you name it?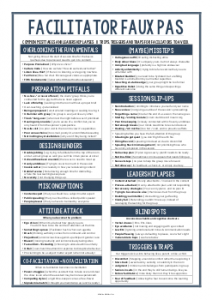 FACILITATOR FAUX PAS
Common mistakes and leadership lapses || tips, triggers and traps for facilitators to avoid.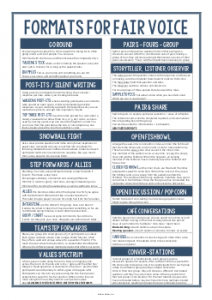 FORMATS FOR FAIR VOICE
A selection of common and useful methods for hosting discussions and exploratory debates.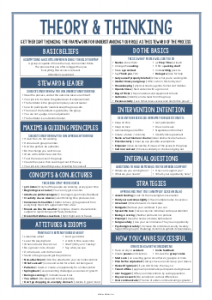 THEORY & THINKING
Get the right thinking: the framework for understanding your role as the steward of the process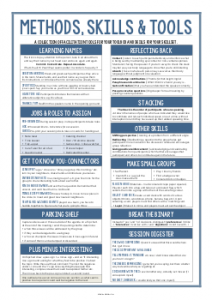 METHODS, SKILLS & TOOLS
A collection of facilitation tools for your toolbox and skills for your skillset.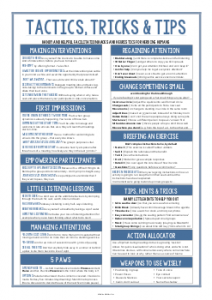 TACTICS, TRICKS & TIPS
Handy and helpful facilitation hacks and heuristics for herding humans.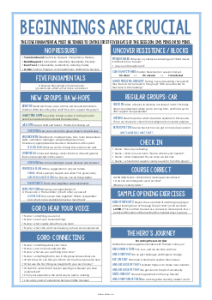 BEGINNINGS ARE CRUCIAL
The five fundamental must be tended to in the first five beats of the session: in 5 mins or 50 mins.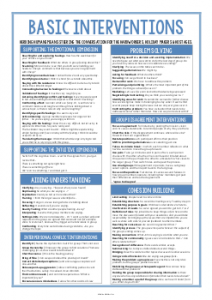 BASIC INTERVENTIONS
Herding humans means steering the conversation for the hardworkers, holiday makers & hostages.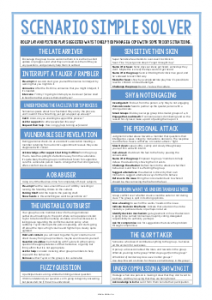 SCENARIO SIMPLE SOLVER
Role play and picture play suggested ways to help you manage & cope with some tricky situations.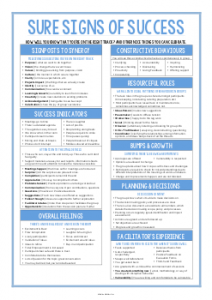 SURE SIGNS OF SUCCESS
How will you know that you're on the right track? And other nice things you can celebrate.

Chapter 3: Group Work & Conflict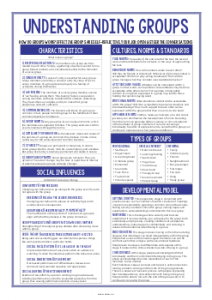 UNDERSTANDING GROUPS
How do groups work? Effective groups are self-reflective. Your job: open & steer the conversations.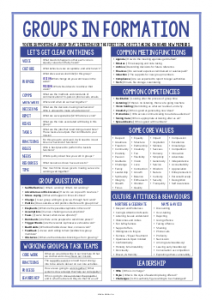 GROUPS IN FORMATION
You're supporting a group that's meeting for the first time, or it's taking on board new members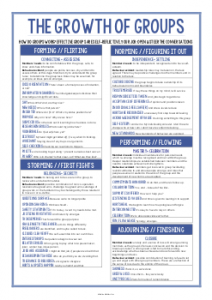 THE GROWTH OF GROUPS
The cyclical stages and phases that groups often fall through (or stay perennially stuck in).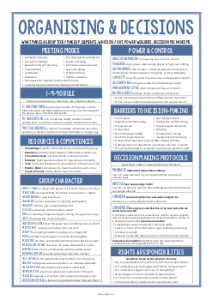 ORGANISING & DECISIONS
What makes a group tick? Make up, elements, who's in / out, power wielders, decision mechanisms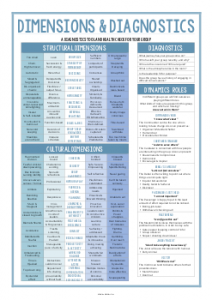 DIMENSIONS & DIAGNOSTICS
A diagnostics tool and health check for your group.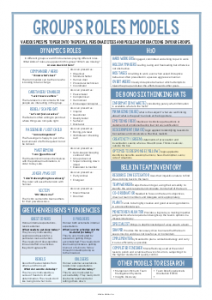 GROUPS ROLES MODELS
Various prisms to peer into the people, personalities and peculiar interactions in your groups.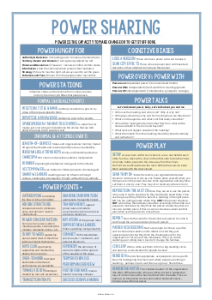 POWER SHARING
Power is the capacity to make change or to get stuff done.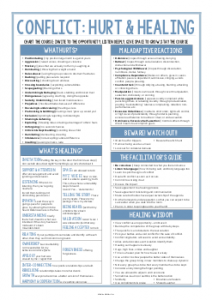 CONFLICT: HURT & HEALING
Chart the course: invite to the opportunity, listen deeply, give space to grow, stay the course.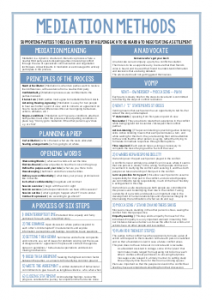 MEDIATION METHODS
Supporting parties to resolve disputes: by helping each to be heard & to negotiating a settlement.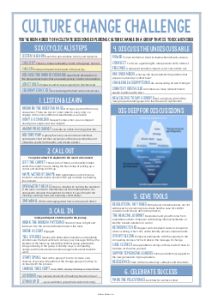 CULTURE CHANGE CHALLENGE
You've been asked to facilitate sessions exploring culture change in a group that is toxic & divided.

Chapter 4: Signposts to Skills & Tools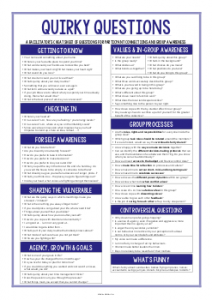 QUIRKY QUESTIONS
A facilitator's cheat sheet of questions for participant connections and group awareness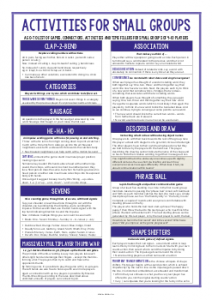 ACTIVITIES FOR SMALL GROUPS
A go-to list of games, connectors, activities and time fillers for small groups of 4-10 players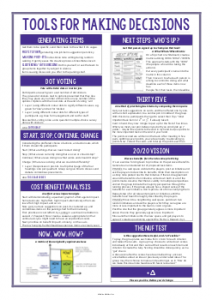 TOOLS FOR MAKING DECISIONS
Generating Ideas
Dot voting
Who, What, When
Now, Wow, How
etc.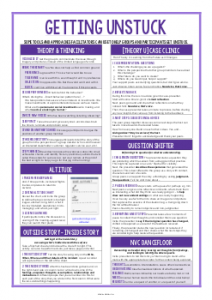 GETTING UNSTUCK
Some tools and approaches facilitators can use to help groups and participants get unstuck.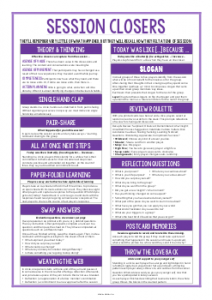 SESSION CLOSERS
They'll remember very little of what happened, but they will recall how they felt at end of session.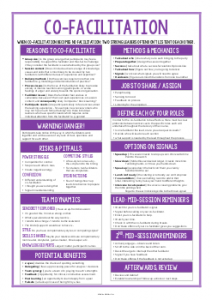 CO-FACILITATION
When co-facilitation becomes no facilitation: two strong leaders often don't listen to each other.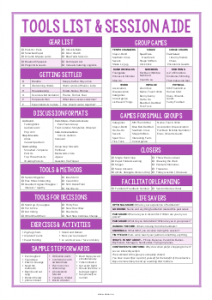 TOOLS LIST & SESSION AIDE
Suggested gear packing list
List of go-to discussion formats
List of go-to games as connectors, breathers and breakers
Sample life-savers and time-fillers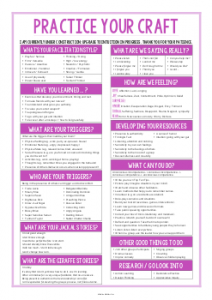 PRACTICE YOUR CRAFT
I am currently under construction: upgrade to intuition in progress. Thank you for your patience.

Chapter 5: Session Design & Delivery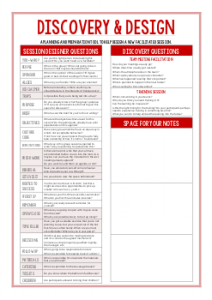 SESSION DISCOVERY & DESIGN
A planning and preparation tool to help design a new facilitated session.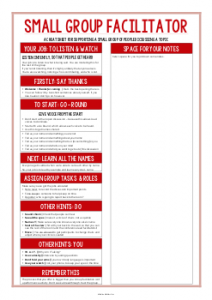 SMALL GROUP FACILITATOR
A cheat sheet for supporting a small group of people dicsussing a topic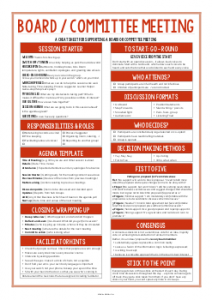 BOARD / COMMITTEE MEETING
A cheat sheet for supporting a board or committee meeting.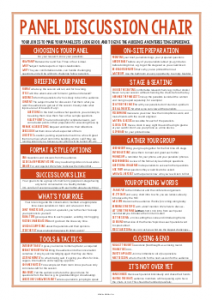 PANEL DISCUSSION CHAIR
Your job is to make your panelists look good, and to give the audience an interesting experience.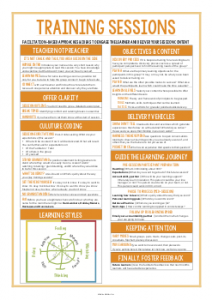 TRAINING SESSIONS
Facilitation-based approaches & ideas to engage the learner and deliver your session content.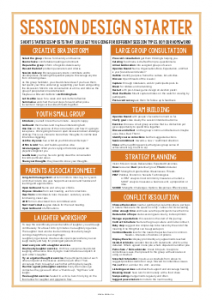 SESSION DESIGN STARTER 1
Short starter signposts that could get you going for different session types. Do your homework!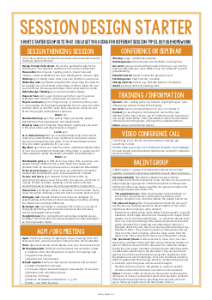 SESSION DESIGN STARTER 2
Short starter signposts that could get you going for different session types. Do your homework!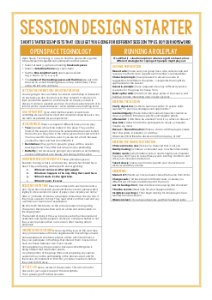 SESSION DESIGN STARTER 3
Short starter signposts that could get you going for different session types. Do your homework!

Chapter 6: Reference Info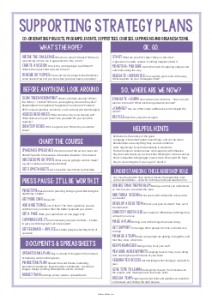 SUPPORTING STRATEGY PLANS
Co-ordinating projects, programs, events, committees, courses, campaigns and organisations.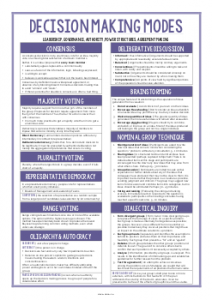 DECISION MAKING MODES
Leadership, governance, authority, power structures, agreement making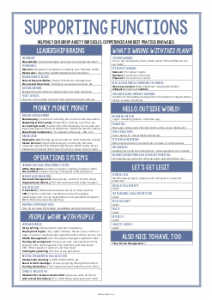 SUPPORTING FUNCTIONS
Helping your group audit your skills, competences and best practice knowledge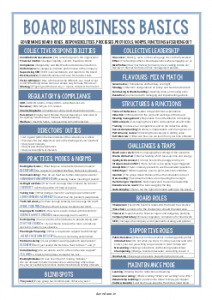 BOARD BUSINESS BASICS
Governance board: roles, responsibilities, processes, protocols, norms, functions & figuring out.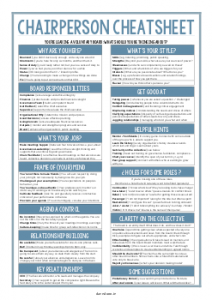 CHAIRPERSON CHEATSHEET
You're leading a voluntary board: what should you be thinking about?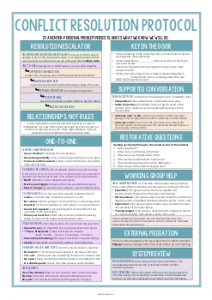 CONFLICT RESOLUTION PROTOCOL
If an inter-personal problem persists, here's what we know we will do.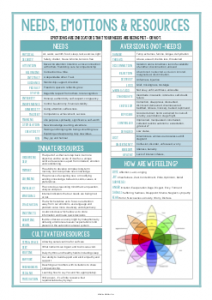 NEEDS, EMOTIONS & RESOURCES
Emotions are indicators that your needs are being met – or not.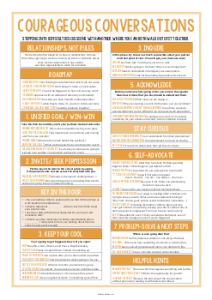 COURAGEOUS CONVERSATIONS
Stepping into difficult discussions with another, where you can both walk out of it together.