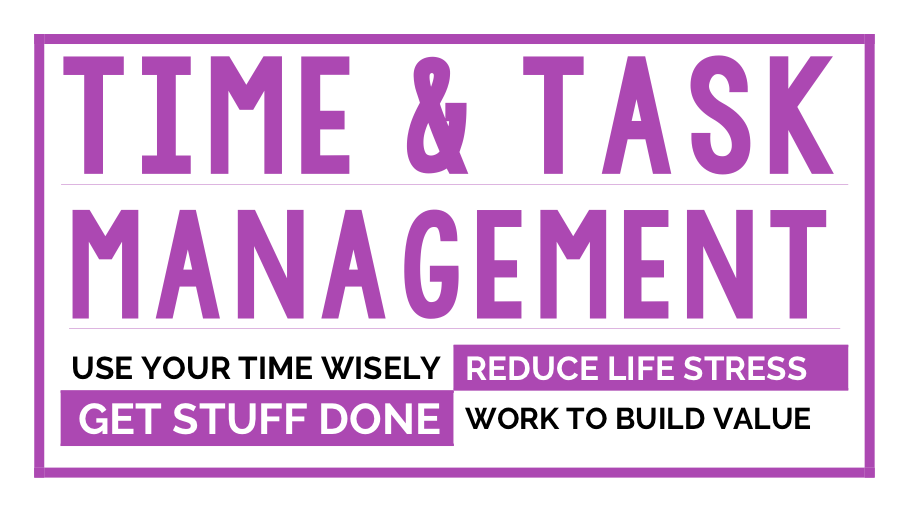 Time & Task Management
Time & Task Management
sharing the tools for motivation and providing tips on attention management
WHAT'S THE INTENTION?
To get to a place where we're able to cope with life's professional demands.
WHY ARE WE DOING THAT?
We learn 'stuff' in school, but we're not given enough supports to learn how to get the best out of ourselves. Chief among these life skills is learning how to manage a never-ending task or to-do list, and the stress that goes with it.
WHAT ARE THE BENEFITS?
Reduce stress – overcome feeling overwhelmed, get to a calm place
Increase productivity – get more done in the same eight hour day
Increase efficiency – make fewer mistakes,  do less rework, achieve deadlines – with less effort
Maximise effectiveness – make better decisions, gain more impact for your input
Realise more opportunities – boost your capacity to say yes to new opportunities
Ability to switch off – be able to close the computer and enjoy the journey home
Learn the value of your time – have more time to spend where it matters
WHO'S IT FOR?
Anyone over 15.
HOW DOES IT WORK?
Through activities and conversations exploring:
Time vs Task  Management – which is your frenemy?
Time thieves – common obstacles to efficient time management
Effective planning – task selection and prioritisation
Working your plan – systems of notebooks, post-its, apps, memory recall, etc.
Downtime investments – different ways to take a break
Motivation supports – rewards, routine, discipline, etc.
What's your groove – identifying strengths, and what you should delegate
SESSION DETAILS
A half day workshop with up to 24 people, in an open room.