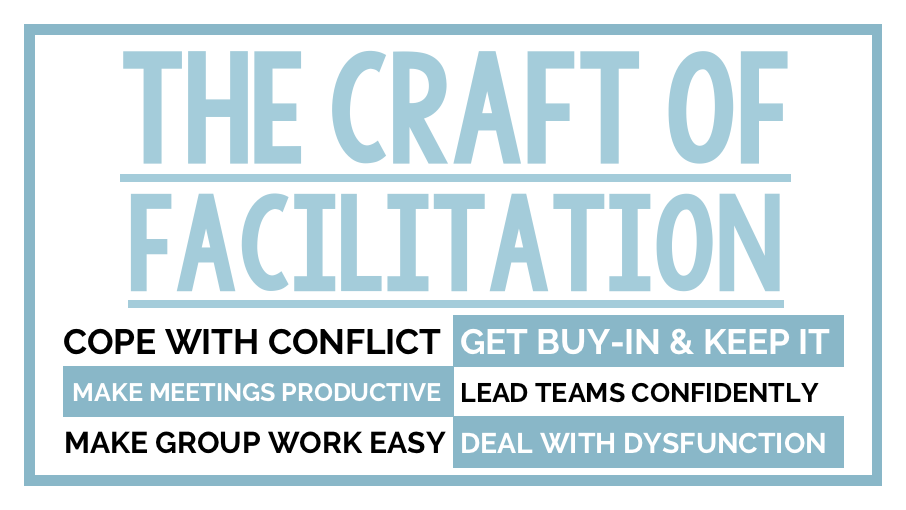 The Craft of Facilitation
The Craft of Facilitation
A level 3 group facilitation skills training course
This course has the strategies, skills and tools
that will make you a more effective leader in groups.
WHY DO IT?
Learn to be an effective leader of groups
This course is comprehensive in its scope. It goes beyond the basics to provide you with a solid grounding as a group leader and meeting maker.
The training will give you a solid framework in thinking about the job, and practical tools to help you facilitate effortlessly.
You can expect to increase your confidence to lead cohesive, accessible and empowering group sessions.
You'll also find that you're braver for those moments of conflict, tension and disharmony.
Typically participants have 3-5 years experience as facilitators or meetings leaders already.
WHAT'S THE GOAL?
What are the intended learning outcomes?
This facilitation skills course will help you to be more able to:
Manage your team and keep them involved
Lead pleasant and productive brainstorming and strategic planning sessions
Chair AGMs, seminars and committee meetings
Deliver effective training workshops and fun teaching classes
Delegate jobs and responsibilities and invite teammates to step up
Host conversations and steer discussions
Support effective methodologies with your teams (appreciative inquiry, design thinking, action learning, thinking hats, etc.)
WHATS THE GROWTH?
What are some of the additional benefits of the course?
You might find you're better at those things because the course supports you to:
Be more confident
Be in control, effortlessly
Be authoritative, gently
Deal with dysfunction & Cope with conflict
Be clear, calm and composed in front of your groups
Empower a group to make more of their time
Empower individuals in a group to have their voice heard
Expand your skills to new arenas and more challenging group types
Learn to plan for almost any kind of facilitated session

WHAT'S INVOLVED?
The course includes content on:
understanding the facilitator's role
the facilitator's essential jobs
listening, observing and sensing in the group
making interventions
understanding how groups work, and, how they don't work
managing conflict, tension and dysfunctional behaviours
decision making methods, and risk avoidance
what and how to prepare for your sessions
methods, tricks, icebreakers and exercises
signposts to the next steps for your facilitation practice
Frameworks and ideas for session session design
HOW DOES IT WORK?
The course works by offering:
THINKING: the key concepts of working with groups: what to think about, and how to think about it
TACTICS: strategies and approaches for coping with common scenarios and tricky events
TOOLS: practical and pragmatic tools and methods: exercises, activities, dos and don'ts
DISCUSSION: sharing and learning amongst the course participants
SPACE:a self-reflective space for the participants' professional and personal development
PRACTICE: role play activities to practice your craft
There may be homework (thematic thinking-time required) and there will be hand outs
LOGISTICALS & PRACTICALS
The Craft of Facilitation is a nine-week evening course
Sessions: 9 Tuesday evenings
Session times: 6pm to 9pm
Location: Dublin 8
Group Size: six to 12 participants (eight is great!)
WHEN'S THE NEXT ONE?
Check the training schedule, Or send a mail to find out upcoming dates.
BONUS BOOKLET
There's also a bonus track:
a booklet (20 pages) of approx. three hundred Games, Exercises, Activities, Icebreakers and Warmups.
Openers
Networking
Concentration
Pairs Work
Chairs Based
Impulsive
Ball Games
Circle-Based
Random Walking / Moving Around
Racing
Chasing / Tag / You're It
Physical Contact
Counting & Numbers
Word Play 15. Guessing Games
Puzzle the pattern
Party Games
Drama / Performance
Exploring emotions
Team problemsolving
Self Reflective Groups
Closers
WHAT DO THEY SAY?
I've learned how important it is to know yourself. To be comfortable in my skin, and to earn the confidence of the group, it's vital that I know what kind of facilitator I am, what my power is, and what's my style. Being on the course has helped me to discover these elements, which is making my group work easier. Facilitating myself is making me a better facilitator.
Marisa Denker, Connect the Dots
My delegation skills have increased – because I've learned how to facilitate myself.
That is, my own personal goals are clearer, and so to pursue them, I need to foster the independence of my team mates. So, I'm using my new facilitation skills to communicate – and delegate – better with my team.
Jannetje van Leeuwen, iQ Branding Solutions & NOSO Journal for Teens
I learned lots of new group work tools, a new way of understanding how to brief for exercises, and I have gained huge increase in my confidence to lead effective workshops with authority and grace. Now people come to me and see me as a resource and support for their own workshop session design.
Rebecca Murphy, Education and Training Coordinator, Jigsaw
I now give attention to attune to the emotional state of the team: where are we at, as a group? What's the vibe and tone this week? Knowing the answers to these questions informs what decisions I will take that will affect the team, and when I will implement them.
Paul O' Brien, Hubspot
After doing Dave's course, I'm more confident in my skills and my practice. I now have a business card that says 'Deirdre O'Donoghue, Group Facilitator.'
The course gave me gave me more confidence in the job I already do, and gave me enough ideas as to other ways in which I can do my job.

It's like being an artist. I know I can paint, and I know that I can paint well, I just do it. What I got from the course was more colours, more tools, more techniques, which means I can paint different paintings. The paintings are still in my own style, I'm choosing the colours, techniques and tools, but there's more of them, leading to a richer, deeper painting.
Deirdre O'Donoghue, Facilitator and Governance Specialist, Educate Together
The tools and insights offered on this course – particularly in the area of empowering a group to take ownership of its culture and behavioural norms – are impactful and they are presented intuitively. What makes this course stand out is that the delivery style is based around play and playfulness – a powerful tool that helps people to connect.
Dr Sara Jane Flynn, Chartered Educational Psychologist
It's got the exercises to be successful and the tricks to disarm.
It gives you confidence and will greatly improve your skills of achieving the best outcome of any conversation, brainstorm, meeting or conflict resolution. Brilliant!
Sharon Green, Queens of Neon
Once you start, you realise how much in life is facilitating and being facilitated.
Marc Rafferty, Alchemy Marketing
It's a safe space to learn and discover your own facilitation style in your own time.
Aimee Banks, Hubspot
Brilliant course for the tools and practice of facilitation. Also great fun.
Richard Harris, Big O Media
This course is delivered in partnership with Connect the Dots, event architects.
Connect the Dots eliminates the guesswork in event design by harnessing the power of data. Working with clients from Accenture to Suas to Dogpatch Labs to the Oireachtas, Connect the Dots helps companies and organisations to meaningfully connect with their audiences through events designed with, and for, your attendees.