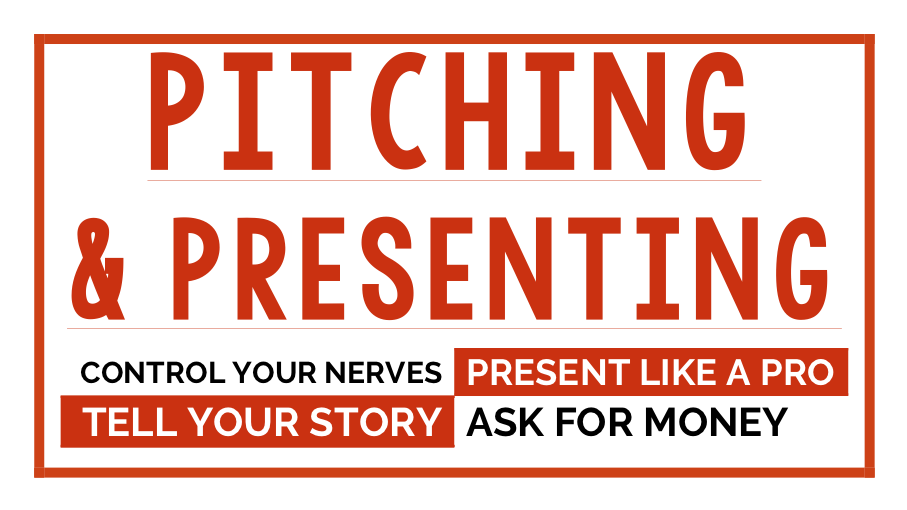 Pitching & Presenting – November 2019
Pitching & Presenting – November 2019
29 November, 2019




8:30 am - 4:30 pm
Learn the secrets of storytelling to keep audiences listening.
WHAT'S INVOLVED?
This workshop uses guided discussions and carefully crafted group exercises to:
• Identify common risks and pitfalls when pitching an idea or concept
• Give you workarounds and recovery strategies for common mistakes
• Explore the Dos and Don'ts of public speaking (presenter performance)

• Teach you the storyteller's craft in order to deliver your message in an engaging manner
• Learn the language to use and the labels to avoid
• Help you to discover the power of listening in real-time

• Introduce some effective presentation structures and formats
• Make sure you get the 'call to action' right (anatomy of the ask)
• Help you get ready for the QnA that will follow your presentation
.
THE CLINIC
The session concludes with a presentation clinic in which participants practice and role play a presentation and get feedback and guidance on areas for growth and improvement.
For the clinic, participants should have prepared for the session a presentation that they will be able to perform. This presentation should last no more than 2 mins, and not use any accompanying slides.
WORKSHOP FORMAT
Dave leads with a gentle and warm, yet strong style in order to facilitate shared discussion, performance practice and new learning.
PHOTOGRAPHY FOR THE WEB
Please note that there may be a photographer taking pictures of me and also of the group. These images will likely be posted online, and used for promotional purposes. Coming along to this workshop means being okay with this.
TREES FOR FEES
Your wokshop fee will plant two trees.
Venue Website: thefumballystables.is
Address:
The Fumbally Stables
, Fumbally Lane,
Dublin
,
Leinster
,
D08 CP27
,
Ireland
Description:

We'll be upstairs in a lovely room called the loft (for a lot of the time).
GETTING THERE
Car Parking
Car parking Parking is usually is available nearby on Newmarket Square, around the corner (Red Zone @€2.40 /hour, MON-SAT 7am-7pm).
Cycling
There's plenty of bike parking by the Fumbally Cafe, and the nearest Dublin Bikes station is at Iveagh Market on Francis Street, a mere 700m walk away.
No doorbell
There is no doorbell at the venue, so if you are arriving late, you will need to contact dave on the phone to gain entry.